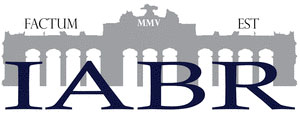 Join us for the 2021 International Association of Breath Research (IABR) Summer Symposium, which will take place with week-long Twitter (@iabr2021) poster event starting June 7 culminating on the June 14-15 on Zoom. On each of these days we will host a two-hour online symposia featuring four presentations questions, answers and commentary.
The field of breath research continues to develop rapidly with new research teams, projects, methodologies, technologies and ideas contributing to an exciting, ambitious and challenging research vision; non-invasive personal monitoring of health and disease. 
The multi-disciplinary nature of work is built on rich multi-disciplinary collaborations, and the partnerships fostered through IABR meetings have supported the development of the ideas, individuals and organisations involved in our endeavour. Until we can meet properly next year in PISA our theme is staying connected. We want to support, and strengthen your global networks as best we can so that you can connect to the teams of clinicians, physicists, biologists, chemists, engineers, mathematicians, computer scientists, product developers and pharmacists and create the new concepts, technologies, sensors and algorithms we all need.
If you are involved in breath research we are keen to hear from you.