Aaron Romero '23 Reflects on Lessons Learned Throughout Engineering Education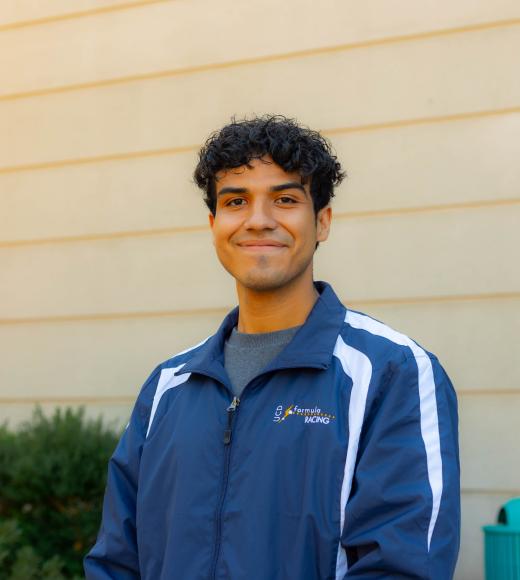 Aaron Romero '23 is a fourth-year mechanical and aerospace engineering undergraduate student who found the College of Engineering's diverse and growth-encouraging environment to be an eye-opening experience. 
As a southern San Diego native, Romero was eager to experience the change in environment when moving north to the City of Davis.  
"When I first moved in, I was blown away with the amount of diversity in the College of Engineering and university in general," Romero said. "There was never a point in my experience where my knowledge of other cultures and even my own was stagnant."
In his second year, Romero joined Formula Racing at UC Davis. He found all the juniors and seniors at the time to be extremely friendly and resourceful, which at an early point in his undergraduate career helped him feel comfortable making mistakes. Since joining, Romero has led the Wheel Package sub-team, which he has found to be an incredible opportunity for further gaining knowledge and exposure to engineering design and manufacturing. The hands-on experience the club provided has given him the confidence he needed to be a problem-solver.  
Romero's favorite course he has taken at UC Davis is EME 171 — Analysis, Simulation & Design of Mechatronic Systems. He found that the course made him see the world differently as the theory behind it pieced together the content of his other courses in a straightforward and beautiful way. 
After graduation, Romero will leverage the engineering education he garnered at UC Davis as a mechanical engineer at Lawrence Livermore National Laboratory.
"To me, the lab does engineering for the progression of engineering and the world, and that's something that would make me proud to work there," said Romero, who was drawn to the lab's mission. "I am incredibly excited and grateful to learn from some of the most passionate engineers in the world."
Primary Category
Tags