C-STEM GIRL+ Camp Introduces High-School Girls to Programming and Robotics
A group of about 20 high school girls sit in front of computer stations in Bainer Hall at the University of California, Davis, for the first C-STEM GIRL+ Camp for girls interested in science, technology, engineering and mathematics (STEM). They split their attention between the lines of code on their screen, a circuit board connected to a small robot on the ground, called a Linkbot, and the energetic camp coach giving a presentation on programming.
"If you can program one robot, program two. If you can do two, program three," says head coach and third-year mechanical engineering major Anna Rita Moukarzel. "Make an army," she laughs. "The world is yours."
The GIRL+ Camp is the first advanced expansion of the C-STEM GIRL Camp, a wildly successful free outreach program that introduces programming, robotics and leadership to middle-school girls, many from underserved schools or communities. Since its inception in 2013 by mechanical and aerospace engineering professor Harry Cheng, the program has inspired many young women to pursue additional coursework in STEM regardless of experience or academic track record.
The GIRL+ Camp teaches girls to work with hardware, such as Arduinos and circuits, on top of the software and programming education of the middle-school camp. GIRL+ is also a leadership camp, teaching students valuable organization and communication skills that will make them successful in college and beyond.
"We don't even need to tell them to work together," said coach and second-year computer engineering major Marilyn Kung. "They're automatically helping and checking in with each other."
The camp coaches and coordinators, all current UC Davis students, are the people who make everything work. They develop the camp's curriculum, plan all the events and lead every lecture, discussion and activity, making sure to be approachable, helpful and honest.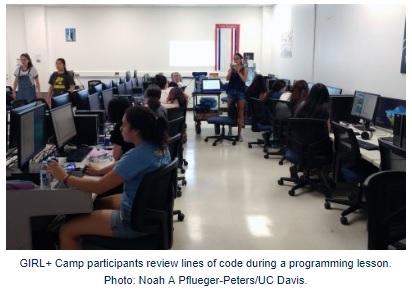 The girls are every bit as invested. They pay close attention to the coaches and their codes, making sure to ask for help when there is a problem or cheering when they get something right, but also taking the time to laugh and talk to their peers. It's clear they feel comfortable.
This is especially true for Malaysia Hillard, an incoming senior from the Napa area, who has been involved with the C-STEM GIRL Camp program since its inception. After attending the first GIRL Camp, she became an assistant coach, winning a leadership award and solidifying her interest in robotics along the way. The GIRL+ Camp has given her one last chance to participate before going off to college to pursue her dream.
"I'm glad I got into it [the program]," said Hilliard, "because I don't know what I'd be doing if I wasn't doing robotics."
Fellow senior Ana Jurado also confirmed her interest in STEM at the camp. "It definitely made me think about how I really wanted to do this [STEM] and that it wasn't just a random idea that I get," she said. Jurado, who came all the way from Southern California to attend the camp, would be the first in her family to go into STEM.
Perhaps the most important part of the GIRL+ camp is the welcoming and collaborative environment it creates, where STEM-minded high school girls and college students can connect with and inspire one another to become better students and better people.
"I've seen not only in myself but also in all of the other girls, their confidence grew so much as they're learning about this code," said high-school sophomore and Davis resident Shay Sorrentino. "It's great to see these people change in front of you over the course of one short week."
To learn about the C-STEM GIRL+ Camp, visit their website or follow them on Twitter: @cstem_girlcamp.
Primary Category
Tags