Harry Cheng Wins Chancellor's Award for Diversity and Community
Mechanical and aerospace engineering (MAE) professor Harry Cheng received a UC Davis Chancellor's Award for Diversity and Community. The annual awards highlight and uplift UC Davis students, faculty, staff, postdoctoral scholars, community members and departments who have made significant contributions to fostering "an environment that fosters a sense of inclusiveness and community for all."
Cheng was this year's member of the Academic Senate to receive the award, in recognition of his groundbreaking K-12 education work through the Center for Integrated Computing and STEM Education (C-STEM). He was recognized by Chancellor May at a virtual ceremony on April 28.
"With his out-of-the-box thinking on hands-on math education, he has profoundly impacted K-12 STEM education and the national talent pipeline for diversity, equity and inclusion in the STEM fields," said the award citation.
Cheng thought the university had an obligation to share its expertise to create a better society, so he decided to use his expertise in robotics and computer science to help K-12 math students in California. He thought that by seeing how the math they were learning applies through hands-on robotics and computing, students would understand it better while immediately seeing how it applies. He founded the UC Davis C-STEM Center on this concept in 2010.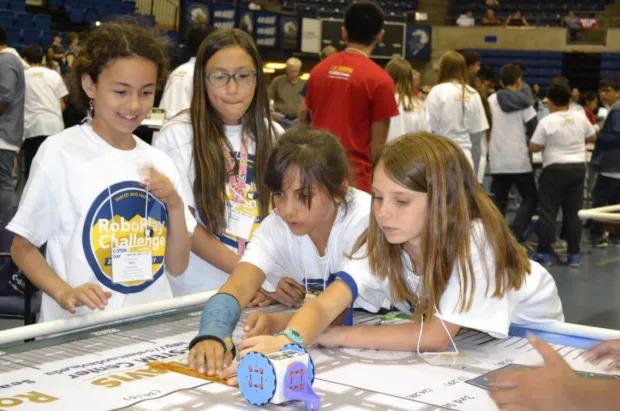 Since then, the center has partnered with schools nationwide to bring hands-on learning to the math classroom and provide professional development to support STEM teachers. His curriculum "Mathematics with Robotics" and "CS/STEAM with Robotics" for students from kindergarten to 12th grade reaches more than 10,000 students per year, and that number continues to grow. The center also offers yearly conferences and symposiums, a RoboPlay robotics competition and GIRL and GIRL+ camps to introduce middle and high school girls to engineering. All of these efforts focus on making STEM accessible to all and developing the next generation of scientists and engineers.
"The Chancellor's Award on Diversity and Community is a recognition of our team effort—our staff, undergraduate and graduate students, our industry and university partners and especially our K-12 partners," said Cheng. "Our work is far from over, but what we've accomplished together has already made a difference in tens of thousands of students' lives. I look forward to continuing this journey on diversity, equity and inclusion together."
Cheng received his M.S. in mathematics and his Ph.D. in mechanical engineering at the University of Illinois – Chicago. Since joining UC Davis, he has won the university's Academic Senate Distinguished Scholarly Public Service Award in 2015 and the Chancellor's Innovator of the Year Award in 2016.
Learn more about the C-STEM Center.
Primary Category
Tags