Ph.D. student Leslie Simms receives NSF Fellowship
Second-year mechanical and aerospace engineering Ph.D. student Leslie Simms has received a three-year National Science Foundation (NSF) Graduate Research Fellowship. The fellowship program recognizes and supports 2000 outstanding graduate students across the U.S. every year. The award covers three years of tuition and researcher salary.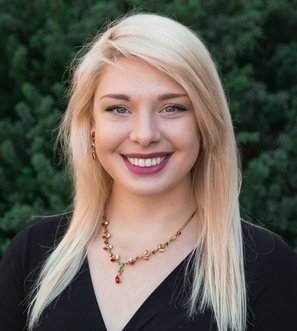 The program, which was founded in 1951, is the oldest graduate fellowship of its kind. In almost 70 years, the fellowship has supported 42 future Nobel laureates and over 450 members of the National Academy of Sciences.
"This fellowship means the world to me," she said. "I am extremely honored and excited to be supported by the NSF as I do my research here at UC Davis and I hope to keep making my family and lab members proud."
2020 is shaping up to be an exciting year for Simms. On top of the NSF fellowship, she was also selected as one of 660 young scientists around the world to attend the 70th Lindau Nobel Laureate meeting next summer in Lindau, Germany, where she will be able to meet and learn from Nobel Prize winners in medicine, chemistry, physics and literature.
Simms is part of professor Cristina Davis' Bioinstrumentation and BioMEMS Laboratory, which builds sampling devices that collect chemicals in the air for analysis. They're used for anything from medicine to agriculture to biology and everything in between.
Simms' research has so far focused on the environment. She deployed devices during the 2018 Camp Fire and on a drone during an experimental fire to learn what chemicals are present in the air. These readings can not only be used to create more localized air quality measurements, but also lead to better wildfire protocols and therefore earlier evacuations.
Over the next three years, she plans to pivot her research to biomedical applications, specifically in monitoring 3D-printed organs. Though the application is different, the basic device and data collection process will be much the same as she plans to adapt the technology.
Inspired by her mentor, Simms hopes to one day run her own research program at a university and give others the same collaborative and supportive environment she has thrived in in Davis' lab.
"Sometimes as a graduate student, I endure academic and research challenges that can last a long time, but it's important to keep applying to awards and keep speaking about our experiences because we all deserve recognition for our efforts," she said. "It will happen as long as we keep our heads up."
Primary Category
Tags