Valeria La Saponara's Lab wins UC Davis Lab Safety Award
Original article posted by UC Davis Safety Services.
Professor Valeria La Saponara's lab recently received the College of Engineering Lab Safety Award from UC Davis Safety Services, naming it the best lab in the College of Engineering in terms of safety. The third annual Lab Safety Awards are part of Safety Services' commitment to recognizing labs with a strong safety emphasis who are doing their part to think safe, act safe and be safe.
The Advanced Composites Research, Engineering and Science (ACRES) lab studies the durability of polymer composites, including smart composites with embedded sensors, and sustainable/biodegradable composites.
The lab's top safety risk is their work with chemicals.
"Our composite materials require chemicals that are toxic, flammable and carcinogenic," noted La Saponara. "If they are not labeled as such now, they may be identified as such some years down the road."
Lab safety matters to La Saponara who didn't recall using PPE as a graduate student, or seeing a box of gloves anywhere in labs.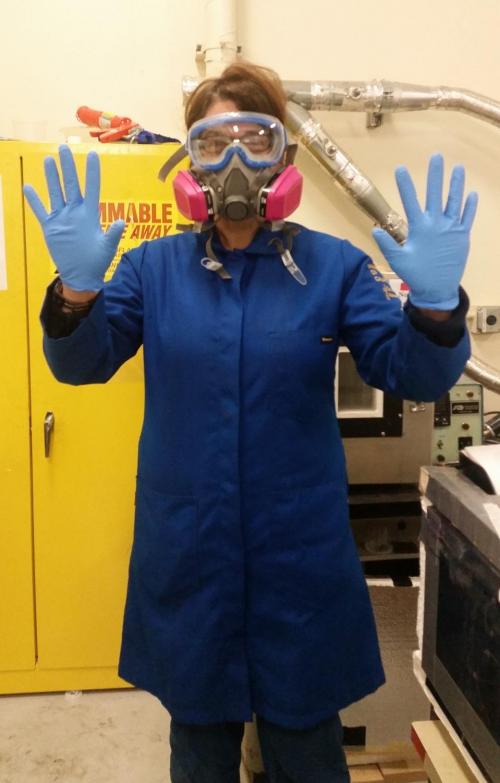 "Since I started working with composite materials as a graduate student, my own threshold has been lowered considerably," she said. "I now have to pay attention to the smell of sunscreen, because I could become queasy."
This personal focus on safety is part of the reason La Saponara serves as the lab's safety officer, in addition to principal Investigator. She's been working to replace toxic chemicals with their less toxic counterparts, whenever possible.
"Our lab recently started working with compostable materials for engineering applications in place of conventional oil-based composite materials," she said. "I feel a lot better composting unsuccessful samples, knowing they won't have any long-term health or environmental impacts."
She spends a lot of time working in the lab and talking with students about safety. She believes that demonstrating safe practices in every single interaction really helps build a strong safety culture.
"I'm like a parent who always makes their kid wear a helmet on a bicycle, but I wear one too," she said. "You cannot expect the student to reach out for eye protection and gloves, every single time, unless that expectation is set from day one."
La Saponara credits her lab's strong safety culture to Safety Services and particularly Loan-Anh Nguyen, who formerly worked in the mechanical and aerospace engineering department. She also thanks the department's current safety coordinators Krasen Kovachev and Patrick Gibson, her department's chief administrative officer Felicia Smith—who she says hired very competent safety coordinators—and the many students and research engineers she has worked with in her lab.
"It really does take a village for a lab such as mine not to burn down to the ground," she said. "I am glad that we were able to implement safety measures and receive campus support over the years."
Primary Category
Secondary Categories
Tags