Christina Harvey: Aerodynamics from Birds to Aircraft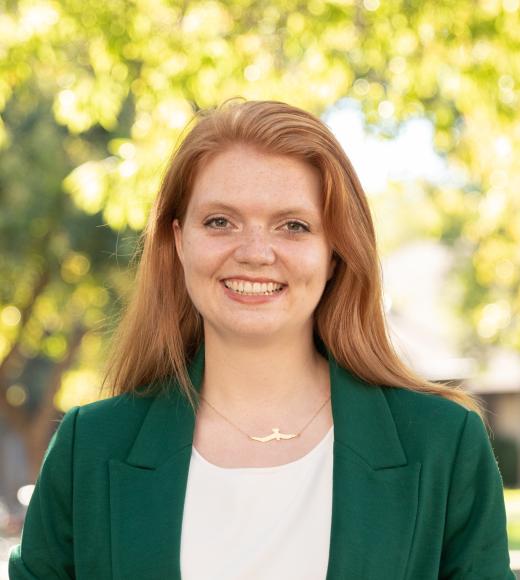 Before aircraft, birds ruled the skies and Mechanical and Aerospace Engineering Assistant Professor Christina Harvey thinks there's still a lot to be learned from them. Harvey's Biologically-Informed Research and Design (BIRD) Lab sits at the intersection of aerospace engineering and biology and looks to combine disciplines to make an impact in both fields. 
"Our goal is not to mimic birds, but rather to figure out which attributes of their flight are useful if we are going to try to replicate things that they do," she said. "Birds don't do everything better, but there are a lot of things that they can do that outperform aircraft, so things like maneuverability and adaptability are where my research falls." 
Taking Inspiration 
Harvey looks to birds to inspire next-generation aircraft designs, particularly for uncrewed aerial vehicles or UAVs. Most UAVs are either highly maneuverable or they can fly long distances for long periods of time, but never both. Naturally, this limits the aircraft's functionality and adaptability. 
A study she did as a graduate student at the University of Michigan, which was published in Nature, found that birds can shift between steady (more controlled) and unsteady (more maneuverable) aerodynamics to both soar and swoop as they fly. She thinks aerospace engineers can use this as inspiration to develop UAVs that are both maneuverable and controllable and therefore adaptable to different situations. 
She also wants to help develop better models of bird flight that allow researchers to more accurately understand nature. In particular, she wants to develop an approach that accounts for the complexity of bird morphology to help biologists study the role of aerodynamics in birds' lives. 
"Birds' wings are flexible, porous, weirdly-shaped and scalloped, and every time that you try to model them, you have to make assumptions just to be able to use our existing tools," she explained.  
Working in Two Fields 
For Harvey, UC Davis possesses a unique combination of facilities and world-renowned researchers in biology and veterinary sciences that she looks forward to making the most of. 
"UC Davis is the perfect place to bring this to life," she said. "Being able to have experimental and numerical aerodynamic data that supports and complements the experimental biological data really encapsulates my vision. It also has two wind tunnels and some of the absolute top vet and biology programs, and working with those researchers is something that I'm just so excited about." 
She is already contributing an aerodynamics perspective to an ecology paper about how temperature distribution affects the shape of birds' wings across a wide variety of species.  
"Engineers often use biology for inspiration in design but I would also like to give something back to the biology community," she said.  
Creating a Welcoming Environment 
Harvey never thought much about bird flight as a mechanical engineering undergraduate at McGill University until an aerodynamics professor discussed the topic in class. She found it fascinating, and when searching for graduate schools, she decided to pursue a M.S. in Zoology at the University of British Columbia.  
Being in a biology lab put her out of her comfort zone, but she also says it helped her gain an appreciation for basic science and build confidence in her aerodynamics skills. She then took her biology knowledge back to engineering to earn her Ph.D. in aerospace engineering studying the aerodynamics of bird flight at the University of Michigan. 
After returning from biology, she was struck by aerospace engineering's "old-school formalness" that she felt was unwelcoming and contributed to the field's inequality issues. To break down these barriers, she co-founded a diversity, equity and inclusion student group that organized town halls and created lines of communication between faculty and students to create a more welcoming environment. She wants to continue her work at UC Davis and make a wider impact on the field as a whole. 
"My goal moving forward is to make sure that science and engineering is inclusive," she said. "I don't want to lose that mindset of making research a positive, open environment where everyone can have an enjoyable experience." 
This extends to her classes too, and she thinks making aerospace engineering more welcoming requires helping students to develop the communication and teamwork skills that they need to excel after they graduate. 
"I think that skills like effective teamwork and communication are something that are often not prioritized or taught explicitly, but at the end of the day, every job is working with people and we are working to create a world where people are treated kindly and equitably," she said. "Teaching those skills from the get-go is something that's really important to me." 
Primary Category
Secondary Categories