Duha Bader '23 Reinvigorates Campus Aeronautics Club, Shoots for the Stars with Regional Conference
As Duha Bader, chair of the University of California, Davis, chapter of the American Institute of Aeronautics and Astronautics, or AIAA, weaved her way through the roughly 160 attendees of her first-ever AIAA Student Region VI Conference, she smiled proudly. After reactivating the club in April 2022 following the pandemic, the aerospace science and engineering major, who graduated this spring, successfully hosted the largest conference in its region's history.  
"I was kind of nervous," she admitted. "I didn't know what to expect."  
The conference, held March 25 and 26 at the UC Davis Conference Center, was heavily influenced by Bader's own experience at the 2022 AIAA SciTech Conference, where she spoke with leading women in the industry at the Women in SciTech Panel, toured a Gulfstream G500 experimental aircraft, and landed a nine-month-long internship as a Mechanical Systems Engineer with Aurora Flight Sciences, A Boeing Company.  
"I wanted to give that [conference] experience to undergraduates at Davis," she said.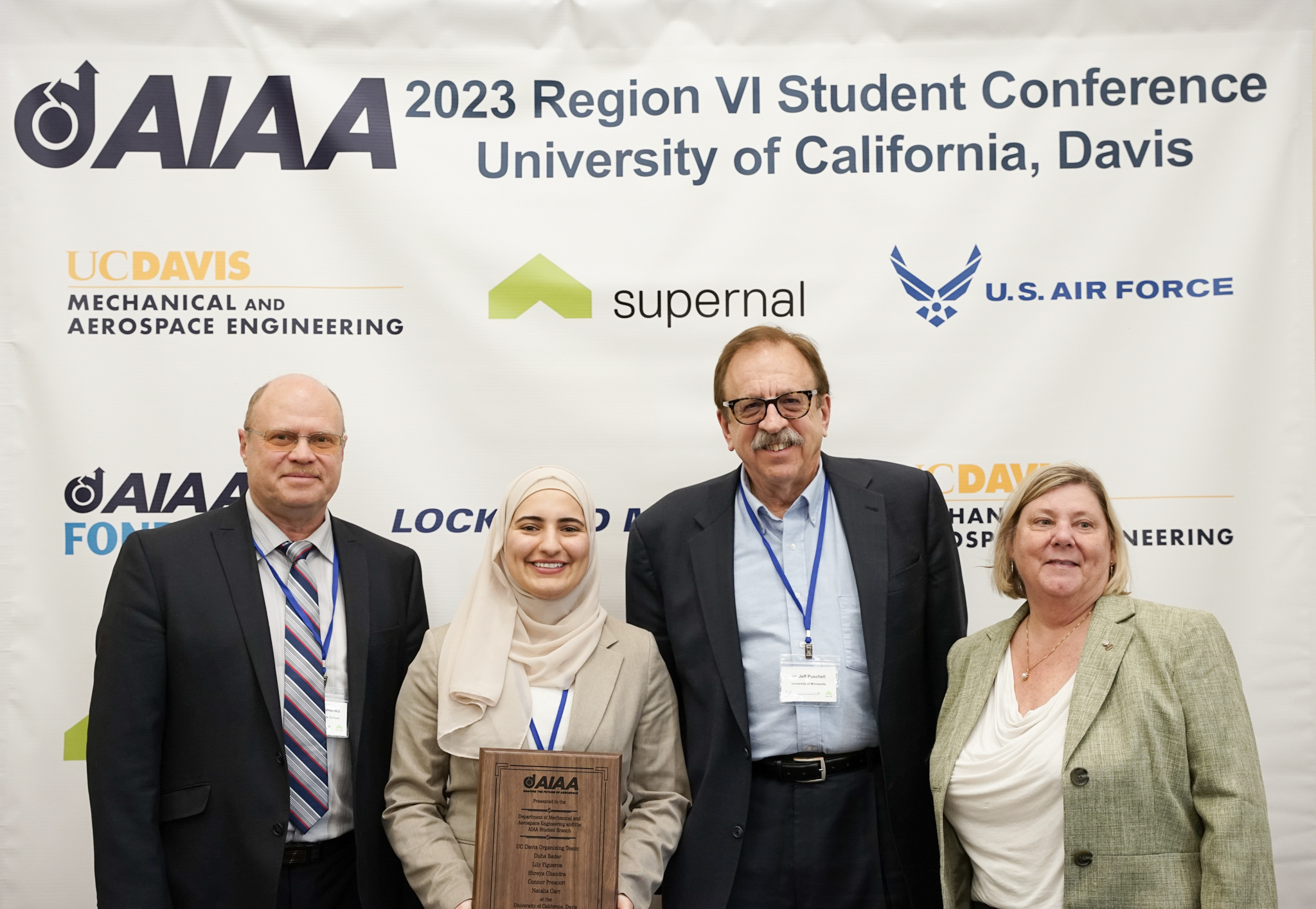 She and fellow AIAA members took up the challenge, achieving two full days of speakers, student presentations (at the graduate, undergraduate, and high school levels), workshops, an aerospace tour and a company expo with industry professionals represented.  
Speakers included Sarah D'Souza, an engineer at NASA Ames Research Center and UC Davis' mechanical and aerospace engineering alum; Martin Gomez, chief engineer manager at Aurora Flight Sciences; and Ioana Cozmuta, CEO of G-Space, Inc., which is developing an "AI-powered software platform to design materials and manufacturing processes optimized for gravity-free environments."  
Student presentations ranged from "Semi-Autonomous Wheelless Robot Design for Small Celestial Body Exploration" to "MataGull: a lightweight bio-inspired non-flapping bird-like morphing drone," while workshops included eVTOL (Electric Vertical Take-off and Landing aircraft) Design, where students learned the design concepts of the aircraft and then designed a conceptual vehicle, and Athena Vortex Lattice, during which students used the title software and Python coding to see how famous aircraft respond to disturbances.  
In addition to the student expo, where organizations like the Advanced Modeling Aeronautics Team, Space Satellite Systems and the UC Davis Drone Club displayed their latest projects, UC Davis Assistant Professor in Mechanical and Aerospace Engineering Christina Harvey, Ph.D., led a tour and discussion on birds and aerodynamics at the California Raptor Center.  
With the success of the club's first hosted conference under its belt, Bader hopes that her new alma mater's chapter continues on the tradition, as the connections made at these conferences can prove invaluable.  
"You leave with inspiration to go out into the field, and with an increased knowledge and vision for aerospace," she said. "And you can never go wrong with networking."  
Primary Category