Student Spotlight: Sicheng (Kevin) Li
Fourth-year mechanical and aerospace engineering (MAE) Ph.D. student Sicheng (Kevin) Li is making a major impact on aerospace engineering and in the UC Davis community through his cutting-edge research on rotorcraft noise and his leadership and mentorship on campus.
Li earned his B.S. degrees in mechanical engineering and aerospace science and engineering and his M.S. in mechanical and aerospace engineering at UC Davis in 2018 and 2020, respectively. His research focuses on aeroacoustics and rotorcraft aeromechanics, where he has made critical contributions to how vertical take-off and landing (VTOL) rotorcraft vehicles generate noise and reducing it. This is crucial for the emerging field of urban air mobility (UAM), which uses VTOL aircraft as "air taxis" to transport people and goods across cities.
"Rotorcraft and helicopter noise has been studied for decades, but UAM vehicles are totally different aircraft and the concept has only been around for about 10 years," he said. "We are at the cutting edge of UAM noise research and we will be some of the first to solve this issue for companies and academia."
A New Research Tool
Accurately predicting how loud UAM aircraft will be not only helps establish the UAM noise regulations, but also supports the design process to create low-noise aircraft. This means accounting for two types of noise—tonal and broadband noise. Tonal noise is the repetitive and intermittent sound rotors make as they spin and interact with the air. Broadband noise is the whooshing sound the aircraft makes as it flies. Both are equally important, though broadband noise is harder to study because it involves complex fluid physics problem.
Li and his advisor, MAE associate professor Seongkyu Lee, have worked through this complexity together and developed an efficient, physics-based broadband noise prediction tool called UCD-QuietFly.
"I wanted to emphasize that our tool's goal is to advance the understanding of rotorcraft noise and eventually reduce noise," said Li, who came up with the name.
Since 2019, UCD-QuietFly has been used by engineers at Hyundai, Uber, Joby Aviation, Archer Aviation and Kitty Hawk, as well as Boston University and Brigham Young University, and the project has been featured in Aerospace America.
"UCD-QuietFly is an especially accurate and practical tool for predicting broadband noise of eVTOLs in conceptual and preliminary design stages," said Sehwan Park, a lead engineer at Hyundai Motor Company who uses the tool. "Noise is a primary issue not only for Hyundai UAM but also for all eVTOL manufacturers to ensure that vehicles could be acceptable for communities and passenger comfort."
Li and Lee are continuing to develop the tool to make it more comprehensive and more useful for their industry partners and the eVTOL field as a whole. Li is also elected to serves as the associate member in the Acoustics Technical Committee at the Vertical Flight Society (VFS), where he reviews papers submitted to the VFS Annual Forums. Li has been honored for his research through a Vertical Flight Foundation fellowship, the 2021 N&M Sarigul-Klijn Space Engineering/Flight Research Fellowship Award, and the best paper award in acoustics at the VFS 77th Annual Forum.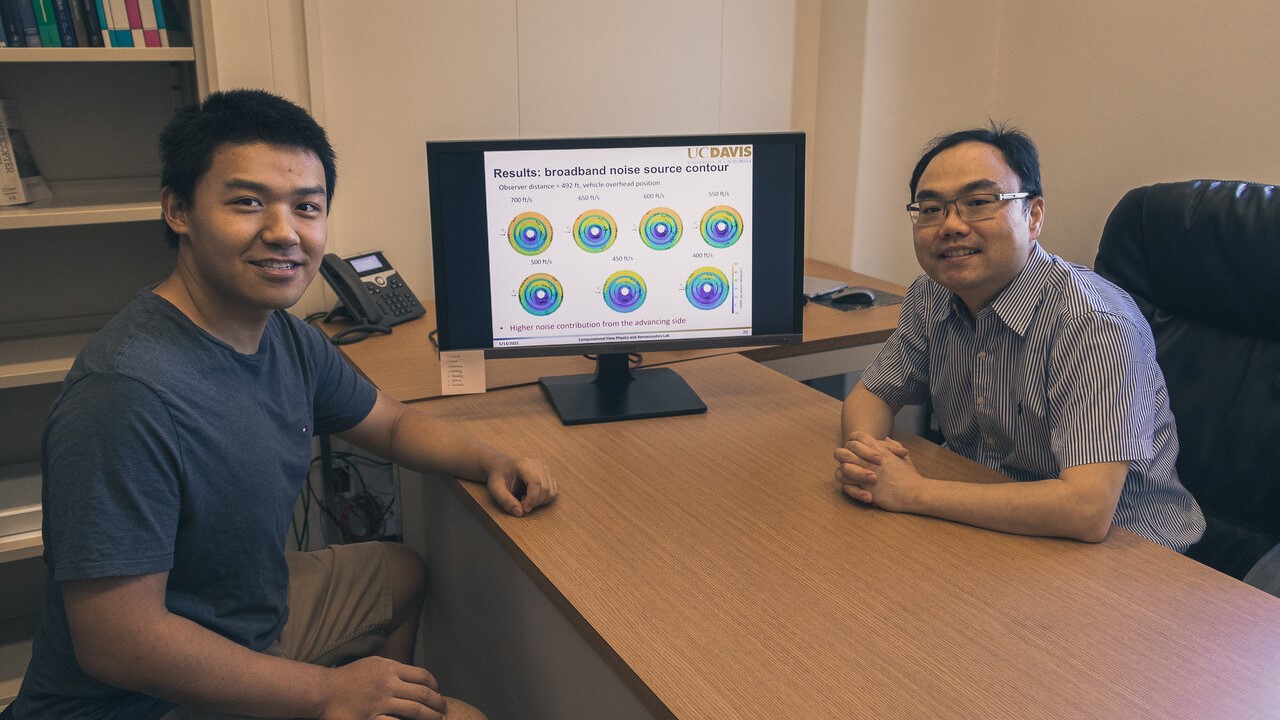 Strengthening His Community
Li also strives to make a difference on campus. He served as a graduate member during 2020-2021 on the UC Davis Council of Student Affairs and Fees (COSAF), a 19-person council that decides how to spend the nearly $92 million from student tuition that goes toward student services and programs.
"I thought this was a great chance to doing more community service work for the UC Davis campus and the Davis community," he said.
As part of the committee, Li reviewed and approved budgets for programs that impact students' day-to-day lives like Unitrans, ASUCD, the California Aggie and the Activities and Recreation Center (ARC). He also played a role in keeping campus' diversity, equity and inclusion programs running, advising the LGBTQIA+ Center, the AB540 and Undocumented Student Center and campus' housing program for unhoused students, among others. He was also devoted to overseeing the fair use of funding in these programs.
"It's like a small congress for students," he said. "When they propose a budget plan, we not only pass it or not pass it, but we also provide some opinions on how to serve students better."
Li says he's used his engineering background to his advantage by contributing technical knowledge to inform proposals for Unitrans and the Green Initiative, which funds campus-based research to improve emissions.
"Many people believe that engineering is just working with physics and math, but I think community service is also very important—especially promoting diversity and representing students' voice," he said. "I definitely encourage more engineering students to participate in community services on campus."
Li was also the MAE department representative on the College of Engineering's graduate student advisory committee last year, which meets monthly with the dean and college safety coordinator. He is proud to have played a role in establishing the college's new Graduate Student Awards and developing best practices for online instruction and ramping up in-person activities during the pandemic.
He also participates in the College of Engineering's mentor collective, which connects alumni with first-year engineering undergraduate students with similar interests, backgrounds, areas of study and professional aspirations. Li advises 2-3 first-year students each year with registration, applying to graduate school and finding research opportunities.
After he graduates, he plans to look for academic jobs and leverage the experience from both his research and service to make a difference on his community.
Primary Category
Tags